Location
The weather station is located in a clearing on the site of a former strawberry farm. It is adjacent to the Helena Observatory, which shares the same clearing.
The majority of the instruments are in the integrated station unit, mounted on a mast, at 1.5 metres above the ground. The wind speed and direction sensors are at the top of the mast, 4.25 metres above the ground.
Local Effects
The station is exposed to sun year-round, and has good wind exposure. The hill rises to the north-west, and the house lies to the west, so wind readings will be reduced when the wind is from those directions.
Our weather is influenced by being on the north slope of South Mountain, above the floor of the Annapolis Valley. We can get more or less precipitation, depending on whether the wind direction puts us on the windward or leeward side of the mountain.
Instruments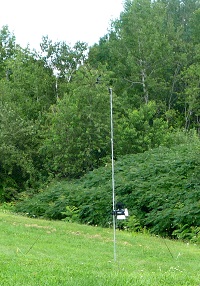 The weather station uses Davis Vantage Pro 2 hardware.
Weather data recording began at the North Alton site on 2023-07-30. Prior to that, it was located in Hall's Harbour. In the past, it used different instruments.